Yesterday (June 2), Times Higher Education (THE) announced the results of Asia University Rankings 2021, which sees 15 Malaysian universities claiming their spots in the top 550 universities in Asia. The number is a record high for Malaysian universities as compared to eight last year.
Universiti Utara Malaysia (UUM) has proudly ranked 155 in the rankings and celebrates its first-ever top 200 finish after making a huge leap of two bands.
Meanwhile, Universiti Teknologi Petronas (UTP) moved up 13 places to the 111th rank, Universiti Tunku Abdul Rahman maintains its position at 119th, Universiti Putra Malaysia (UPM) climbs nine places to finish at 136th and Universiti Kebangsaan Malaysia (UKM) climbs 10 places to 150th.
The newly-announced rankings also sees Universiti Kuala Lumpur and Universiti Teknikal Malaysia Melaka making their debut in the 401+ band, and five out of six Malaysia's top-performing universities improving or maintaining their positions.
As for Universiti Malaya (UM) it suffered a six-place fall, but still finished in the top 50.
THE chief knowledge officer Phil Baty said, "It is great to see a number of Malaysia's universities improve or maintain their previous ranking positions, despite the growing competitiveness across the region."
"It will be interesting to see what happens in Malaysia over the coming years, and how universities adapt to the post-Covid world," he added.
This year, 551 universities rank in total compared to 489 in 2020, with China's Tsinghua University and Peking University claiming the first and second spot respectively, while Singapore's National University of Singapore takes third place.
Here's the list of Malaysian universities in THE Asia University Rankings 2021: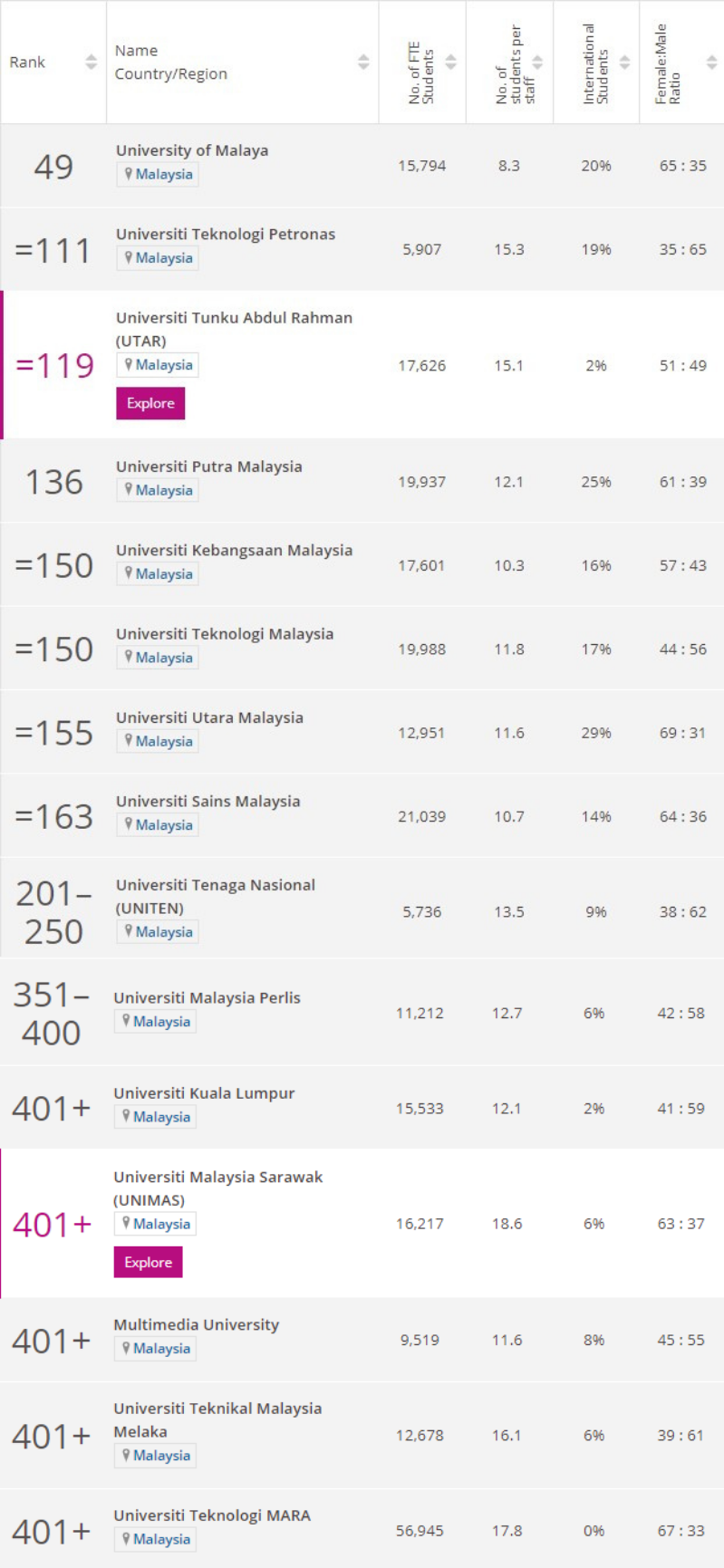 Great news! This goes to show how great Malaysians are. Looking forward to next year's list!
Credits to The Star for the initial coverage.
FOMO much? Follow our Facebook and Instagram for more updates.