The Malaysian Anti-Corruption Commission (SPRM) has directed Malaysian politician Syed Saddiq to declare all possessions that were stolen from his home during a robbery that took place at the end of March 2020, on top of the RM250,000 that were taken.
The SPRM are investigating the case in accordance to Section 17(a) of the Anti-Corruption Act -- including the possibility of bribery.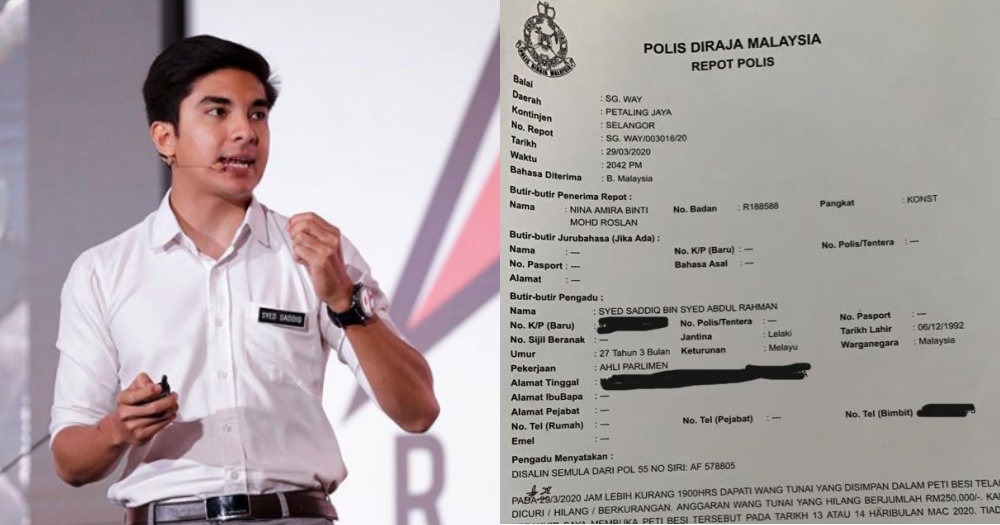 Prior to this, Syed Saddiq had filed a police report on 29 MAR on the robbery that had cost him the loss of cash from his home safety box.
"Only a few people know the combination to the safety box and the last time it was opened was between 13 - 14 MAR," says Syed.
The ARMADA chief of BERSATU and 2 other individuals were brought in to give their statements on the matter.
The former Minister of Youth and Sports took to Facebook to acquit himself of bribery.
He claimed that the stolen money were from his family as he was looking to renovate his home.
He also added that during his time serving as the Minister of Youth and Sports, he was one of the first to declare all of the assets, along with everything else that comes with the contract.
Syed revealed that ministers and members of parliament receives a monthly salary of RM55,000 -- and that excludes the added incentives that they receive for attending programs that were far from the office.
However, his statement also sparked negative reactions from netizens as they wondered why ministers would have an allowance for tableware amounting to RM42,000.
This is how much a person earning low-wage salary would earn in 3 years!