A 17-year-old boy tragically died after a basketball hoop structure collapsed and fell on him, in Bedok on July 26.
The teen and his friends were playing in a court near Bock 18 Bedok South Road when the tragic incident took place.
According to a resident, the teen's friends were sobbing over their friend's condition. He even added that there was a blood all over the court.
Arrived at the scene, the Singapore Civil Defence Force claimed that they received a call for aid around 8.45pm and cardiopulmonary resuscitation (CPR) was performed on the boy, on the way to the Changi General Hospital.
Unfortunately, the teen was pronounced dead as he succumbed to death due to the injuries.
In light to this matter, the East Coast Town Council extended its condolences to the teen and his family, in a Facebook post.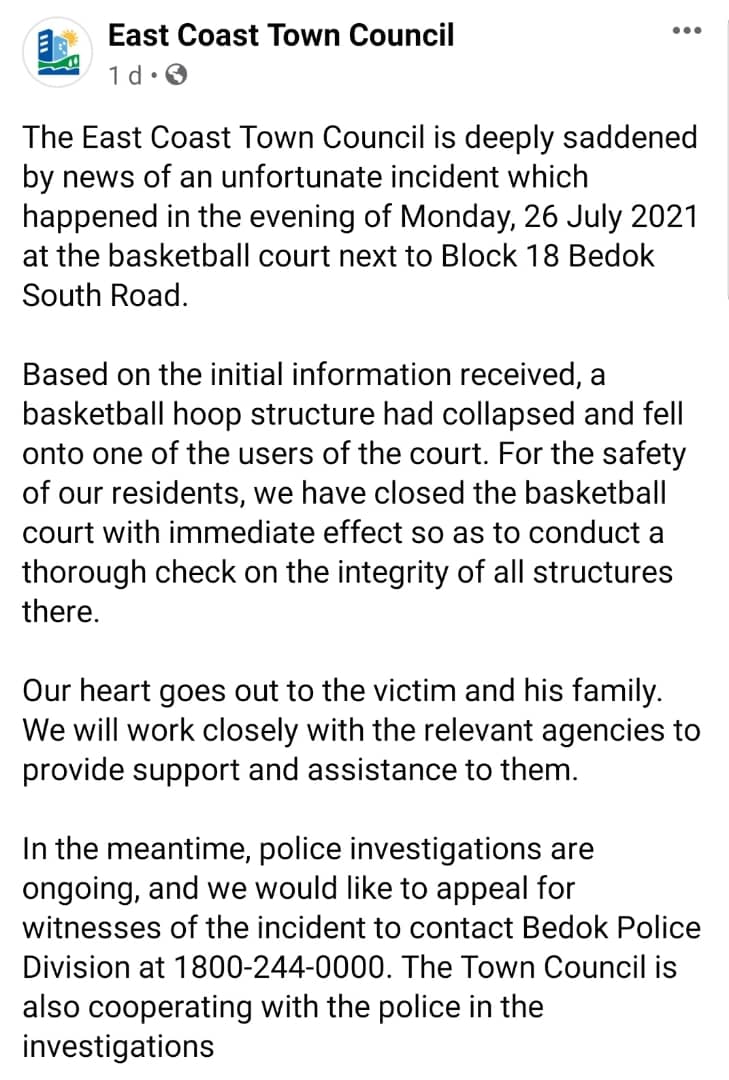 Image via: Facebook
It is also said that the court is now closed to conduct a thorough check on all the other facilities there.
Source: The Straits Times
The town council also welcomes witnesses to contact the Bedok Police Division in case of any information.
It is highly important to always adhere to safety measure regardless the place. The relevant authorities should also carry out their responsibilities well to avoid mishaps like this. May the soul rest in peace.
Credits to Asia One for the resources.
FOMO much? Follow our Facebook and Instagram for more updates.