As regulated by the National Pharmaceutical Regulatory Agency (NPRA), the Covid-19 vaccines currently are only given to those aged 18 and above. However, as the number of cases involving children are on the rise lately, there is a need to ensure that the children are vaccinated as well.
From January 25 until May 30, a number of 82, 341 children under the age of 17 are infected with the coronavirus, and three (3) deaths involving children under the age of 5.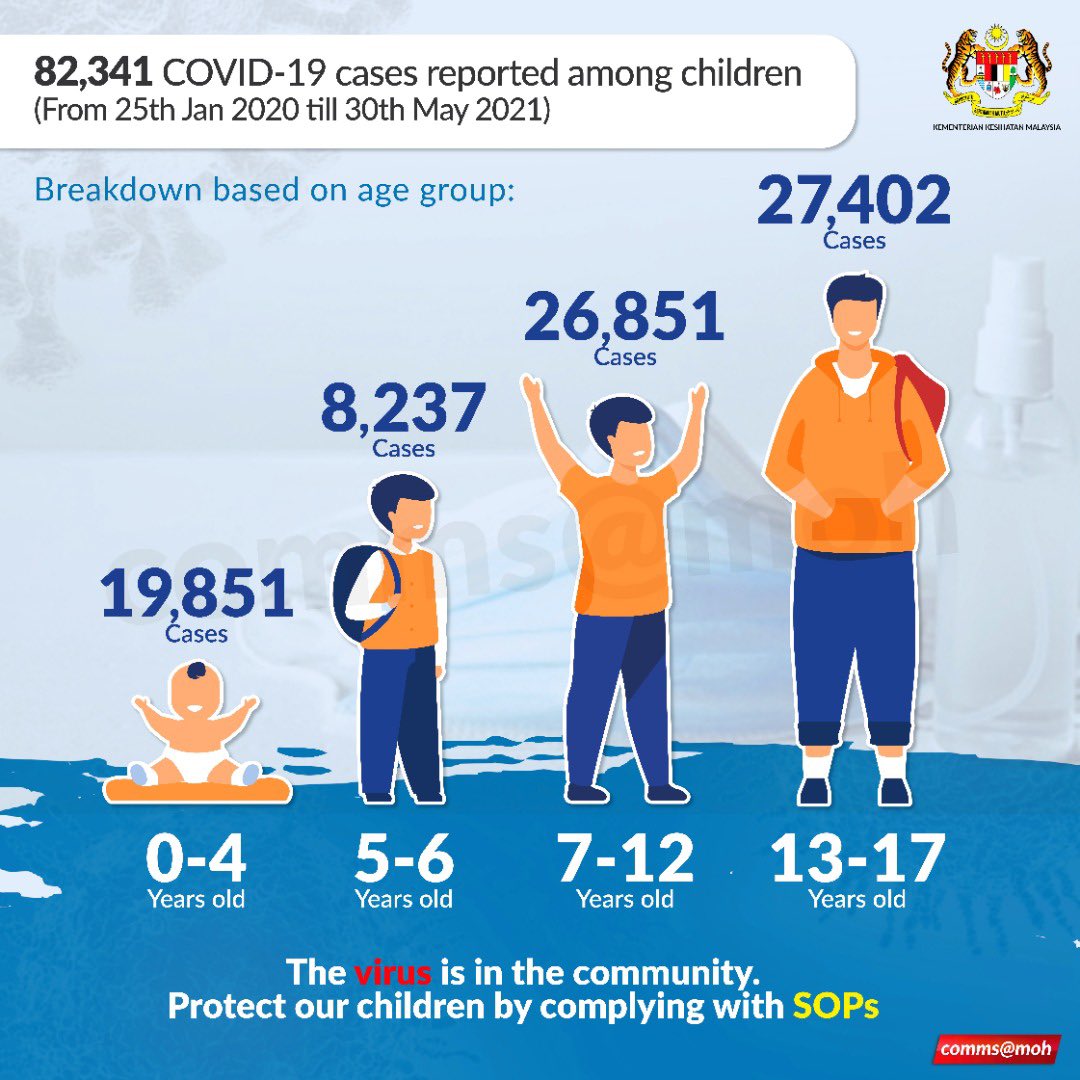 Image via KKMPutrajaya (Twitter)
Seeing the current trend of rising cases, Health Minister Datuk Seri Dr Adham Baba said that children between the ages of 12 and 17 are expected to be included in the National Covid-19 Immunisation Programme in its fifth phase.

Image via The Star
He also mentioned that if the NPRA approves for the Pfizer vaccine to be used on the age group, this phase will most likely start in August. As of date, only Pfizer had submitted a request for its vaccine to be used on children.
With most of the Pfizer vaccine supply to arrive by August and herd immunity achieved, the government intends to keep the children protected from the virus.
"Data on the safety and efficacy of the vaccine in children is already out and the US Food and Drug Administration (FDA) has approved its use on children. However, locally, Pfizer would need to submit an application to the NPRA to expand the use of its Covid-19 vaccine in children aged 12 and above," he added.
Among the countries that have approved the vaccine for this age group are Canada, Singapore, United Kingdom, Italy and Hong Kong.
The government is expected to announce its decision on the administration of the Pfizer-BioNTech vaccine in children today (Wednesday, June 9), after a meeting with the Special Committee for Ensuring Access to Covid-19 Vaccine Supply (JKJAV).
As adults, I believe we all bear the responsibility to protect and care for the children. They're too young to know anything, so it's up to us to make sure they don't get infected. Stay safe for your health, and others.
Credits to The Star for the initial coverage.
FOMO much? Follow our Facebook and Instagram for more updates.