More than a week ago, a war broke out between the Israelis and Palestinians which had claimed hundreds of lives. After 11 days of continuous strikes, both sides have agreed to end the war with a cease-fire mediated by Egypt.
The cease-fire came into force at 7AM Friday local time (2AM GMT), with Palestinians pouring onto Gaza's streets to celebrate. Mosque loud-speakers feted "the victory of the resistance achieved over the Occupation (Israel) during the 'Sword of Jerusalem' battle."
Due to the war, the Eid al-Fitr festival could not be celebrated by the Palestinians. Instead, they have held Eid al-Fitr meals today to celebrate both the conclusion of Ramadan, as well as the end of the terror they have been living in for the past 11 days.

Image via Al-Jazeera
Despite the truce, both sides said they are ready to retaliate any truce violations by the other. To avoid this from happening, two delegates from Cairo will be sent to monitor the cease-fire.
Gaza health officials said that throughout the war, 232 Palestinians, including 65 children, had been killed and more than 1,900 wounded in aerial bombardments. According to the United Nations, more than 90,000 people are displaced.
Meanwhile, death tolls in Israel are recorded at 12, with hundreds of people treated for injuries in rocket attacks that caused panic and sent people rushing into shelters.
Hamas, the Islamist group that rules Gaza, cast the fighting as successful resistance of a militarily and economically stronger foe.
In a televised address on Thursday, Biden extended condolences to bereaved Israelis and Palestinians and said Washington would work with the United Nations "and other international stakeholders to provide rapid humanitarian assistance" for Gaza and its reconstruction.
The good news is also celebrated by Malaysians as #EidWithPalestine and "Eid Mubarak" went trending on Twitter.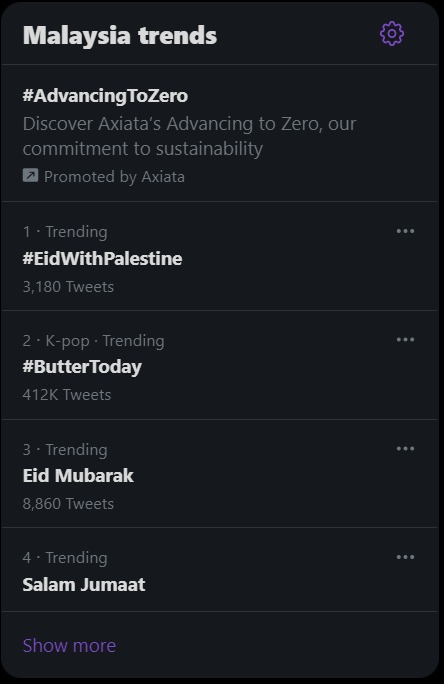 For Malaysians who want to read about what happened in Palestine since May 10, you can read it in the Twitter thread shared by Ikhwan (@JatIkhwan on Twitter).
Hope this small victory marks the start of freedom for them.
Credits to Malay Mail for the initial coverage.
FOMO much? Follow our Facebook and Instagram for more updates.